The game Click Speed Test or click test is Designed to count your clicking speed. Speed Test Clicker helps you to boost your click speed
What is a click Speed Test?
Click Test is a tool that measures your clicking capability in a given time frame.  Click speed test or click tester both are the same things  So, in simple words click test tells us how many times a person can hit the mouse button.
We provide you click speed test, this game is designed to test your clicking speed. Your scores will increase by the number of clicks you have done. You can beat your speed by playing again and again without any limitations. Furthermore, you can Improve your Performance for gaming purposes like shooting and action games. You can use an auto clicker for this Purpose.
How To Calculate Clicks Per Seconds?
If you are wondering that how we calculate clicks per second.
Formula:   CPS = Number of Clicks / Number of Seconds.
clicks per second is the total number of clicks divided by the total number of time. You can easily calculate your click speed test score by this formula.
Time variations for clicker speed test:
You can set your game setting as per your demand in a controlled environment. There are different time stamps in the game; you can choose anyone. Moreover, we have provided you little detail about all-time variations.
Click Per Second Test: It's the shortest variation that calculates your numbers of click per second
Click Per 5 Seconds: It is the second shortest time stamp to test your clicking speed. You can divide your total number of clicks in 5 seconds by the total number of seconds.
Click Test 10 Seconds: It is one step higher than the 5-second variation. People take this challenge to test their clicking speed in just a click per 10 seconds.
Click Test 30 Seconds: In click test 30 seconds, you can test your speed of clicking in the average time frame. It is a bit longer than the 10-second challenge
Click Test 60 Seconds: This mode is designed for those gamers who want to test their clicking speed in 60 seconds time variation. Keep clicking on the button very fastly seems to be a tough job for a long time.
Click Test 100 Seconds: This is the longest variation above them all. It is designed for professional gamers, who want to improve their clicking speed more efficiently in click per 100 seconds.
Types of Speed Clicker Or Mouse Click
Here are some types of speed click test with a mouse click
Click Counter: It is a timeless framework to count click that how many clicks are done without any time limit. You can test it by using a mouse, laptop, and mobile phone. It acts as a helper according to your counting demand.  Furthermore, you can enjoy social sharing, browser compatibility, and exact results in just a blink of an eye.
Mouse Test: In the mouse clicker test, you can justify your mouse buttons, right button, left button, or center wheel by clicking on them. This task will tell you about the performance of your mouse, as well as about your device performance.
Spacebar Click Test: in this type, you can elevate your space bar by clicking. It is the same kind of test by using a spacebar you can test your spacebar counter by hitting the spacebar in a given time interval.
Aim Trainer: Aim Trainer is simply a tool to train your aim for mouse accuracy without mouse accuracy you can not perform well in most of the games. It is a level base game to improve your gaming skills according to each level.
Double Click Test: It is the ultimate tool to test your mouse double-clicking. Double-clicking plays an important role in many tasks of computer, as well as your gaming tasks too. You can test your mouse's right, left and upper button double-clicking in a more defined way.
How to Click Faster?
Kohi Click Test:
In this test, a player can upgrade his clicking speed in a given timeframe. This test is also known as the Minecraft server. The main purpose of the kohi click test is to accelerate your clicking speed more efficiently.
Different methods are available for you to enhance your click speed. These tips will allow you to gain maximum in the context of your speed click. These methods are under below
Regular clicking;
It is the easiest method for starters. Everyone is using this technique on the daily basis. For example; When we want to open any folder, usually click for one or double time. Single clicking and double-clicking are known as regular clicking.
Jitter click test;
In the Jitter click test, you have to click the mouse button at a very high speed. Your hand vibrations are involved in a very controlled way that transmits the vibrations to the fingers by mouse clicking in a few seconds. Through this technique, users get trained to click as fast as they can, but it is more difficult to become a pro of this technique. You need a lot of practice to become a master of it. By using this tip people can click 10 to 15 taps in just per second.
Butterfly clicking test;
In butterfly clicking, you tap with your two fingers instead of the one. Usually, the index finger and middle finger are used for this purpose that gives you higher scores if you have done it properly. It is much more advanced and instant than jitter clicking. By this technique, people can score 18 to 24 clicks per second.
Drag click test; 
In this technique, users slide their finger down and their mouse letting them click 40 times per second. It is one of the fastest clicking methods of all of them.
---
Features of Click Speed Test
---
1. Clicking Speed Test
This game is designed to calculate clicking test speed and a way to calculate the number of clicks in given time variations. The Click Test tells that how can you speedily click on a mouse button.
Such a great activity you can play and test your clicking speed test. You can test your clicking speed again and again to beat your score. Just challenge yourself, and increase your score to compete globally.
2. Give instant results
In this game, you can check your clicker test speed result instantly. If you are not satisfied with your score then you can play the game many times to improve your results.
3. No lagging
We designed this game without any performance issues to improve and maintain its performance. There is no issue with lagging, no delay, and no hanging issue.
You play the game easily without any fear of lagging. You can play better and make progress without slowing, the game is free from any form of technical issue.
4. Compatible with any browser
Our website is compatible with all browsers such as Opera, Safari, Chrome, Firefox, Mozilla, Internet Explorer, etc.
Something that makes a website great is when it is compatible in multiple browsers regardless of version. Technically this is referred to as cross-browser compatibility.
We make sure that our websites are compatible with the most popular browsers. We offer a great mobile user experience.
5. Social Sharing
An interesting addition to this game is that you can share your score with your friends and invite them to play the game.
Our website allows the player to share his clicking test score on any of his favorite social media with friends and challenge him to beat the score. The users can go over social sharing via Twitter, Facebook, and e-mail.
6. Mobile Friendly
An additional feature is that the game is mobile-friendly. Mobile users can also test their skills from the same web version because the web version is precisely similar to the mobile web view.
You can test clicking speed easily in the given specific timespan.
7. No Account required
Our website does not require an account to play the game. Everything is simple with no headaches. Best of all, we don't require you to create an account.
8. Different time variations to choose
We offer you different time variations, the users can choose any timeframe to test their clicking speed.
Available options to test their speed are, click per second, click per 5 seconds click per 10 seconds, click per 30 seconds, or click per minute (60 seconds) and the highest period is click per 100 seconds.
How can fast you click at these different times? Just test and check yourself by choosing any of the timeframes.
9. An Interesting game to compete with your friends
The click speed test is an interesting game to challenge your friends with your highest score. Users can enjoy this game on the basis of competition.
You can compete with your friends on how fast they can hit the spacebar in the given time.
You can set your highest score and break the other records. The faster your speed the faster you can achieve your highest score.
Click Speed Tester Score Table
| | | |
| --- | --- | --- |
| # | Clicking Test Score | Results |
| 1 | 0 To 5 | Snail |
| 2 | 6 To 8 | Turtle |
| 3 | 9 To 10 | Rabbit |
| 4 | 10 To onward | Cheetah |
---
How to Play Speed Test Clicker
---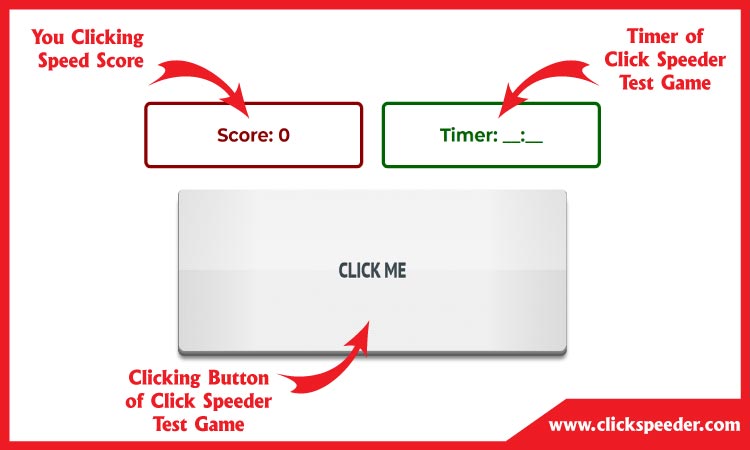 There are simple steps to follow:
To start the game, first of all, hit the 'Click here' button given on the above grey box to start the speed test clicker.
After the clicking, the game quickly starts, without any time loss, you would start clicking continuously on your mouse as fast as you can in the given timeframe. A timer with the box will be showing the remaining time.
Once the timer runs out, the game also ends and your score will be shown immediately with the CPS (Click Per Second).
Players can switch many time variations from the menu given on the top of the page. These time variations include click per second, click per 10 seconds, click per 30 seconds, click per 60 seconds and the highest period is click per 100 seconds.
You may try the game as many times as you want. There is a ' Try Again' button for you. So, you can play the game again after each attempt.
To increase Speed Clicker ability you need to follow the suggestions given below:
Using a gaming mouse instead of a regular mouse and avoid the laptop trackpad.
Adjusting your mouse sensitivity by changing your mouse setting.
---
Frequently Asked Questions Speed Click Test
---