Minecraft house ideas:
If you are new to the Minecraft gaming world, you have to know about the Minecraft house's importance and building process. Different types of blocks and other tools are used for the construction of Minecraft houses. The cool Minecraft houses and buildings show your creativity level that affects your gaming journey and mind. In this case, you are not a pro player, and then you have to know about the basics of the construction of houses in Minecraft. Several houses are constructed in this Minecraft house game, so we have combined all the basic and famous ideas on our site.
You can get better ideas about the Minecraft survival house, Minecraft mountain house, Minecraft Japanese house, or construction of the houses on one platform. If you understand the basics and valuable tools, it will never be challenging for you. Here you can check out the ambitious projects and ideas and utilize them to build brand new cool Minecraft houses with your creativity. Let's build your dream Minecraft house by getting benefits for the efforts that we have made for you. We are hoping that you will enjoy this guide and will develop your modern Minecraft house very quickly.
Here is the list of the top 20 Minecraft houses:
Red Roof House with a small garden
Simple Survival House
Three-story Wooden House
Fantasy Cottage
Modern Luxury House
Large Oak Survival House
Ultimate Japanese Pagoda
Forest Cottage
Cozy Farmhouse
Simple Survival Boat House
Soft Pastel Pink House
Mini House
Acacia Mountain House
Underwater Mountain House
Minecraft Underground House
Trench Underground House
Minecraft Tree House
Minecraft Suburban House
Minecraft Beach Idea
Minecraft Villa
The number of Minecraft house designs and tutorials is here for assisting you. All houses in Minecraft have their specialty. Every Home is unique that will surely inspire you. So, what are you waiting for??
Hurry up! Let's look at these ideas and Minecraft house tutorials and start your construction as per your desire.
Red roof house with a small garden:
It is a beautiful red house having a small garden. Red, white colors and bricks texture make it more pretty. It seems not so challenging for you if you know about the basics of the construction of the house. However, it takes not enough time. YalChu's Home creates this superb house. We have attached its picture along with a YouTube tutorial link for your comfort.
Minecraft Survival House:
In the Minecraft game, Minecraft Survival House has its specialty. It involves Simple Survival House, Simple Survival Boat House, Large Oak Survival House, Large Spruce Survival Mansion, etc.
Simple survival house:
It is a unique survival house that SheepGG manufactures. It looks incredible, and you will surely enjoy it while building this house. Light brown and off-white color makes it classier. Somehow, it seems like a wooden brick house having traditional infrastructure. Its creator has created a tutorial for its complete construction. So, enjoy this opportunity.
Minecraft Modern House:
The most famous building style in the Minecraft game is modern architecture. It includes Modern luxury House, Modern Cliffside House, Luxury Mansion, Modern Blue House, Ultra Tiny Modern House, and many more.
Modern luxury house:
It is a stunning house that represents modern infrastructure. It takes a massive area in the middle of beautiful greenery. In towns, most of the homes are built like this house. Its rooftop looks more prominent because of the grass finishing that delivers a fresh look. Light brown, white and grey color is used for its construction. Just click on the given YouTube link for its complete tutorial and learn about modern infrastructure.
Fantasy cottage:
It is a cute house like in a wonderland. It is as per your fantasy requirements. It is our favorite house that has a unique structure. Its vast size building seems like a castle. The flower bar in the front of the fantasy cottage makes it more pretty. Zinc & white color is used for its construction along with wooden texture. BigTonyMC creates this cottage. Here we have attached its video link for the tutorial for you. You have to click on this Minecraft house tutorial and enjoy it.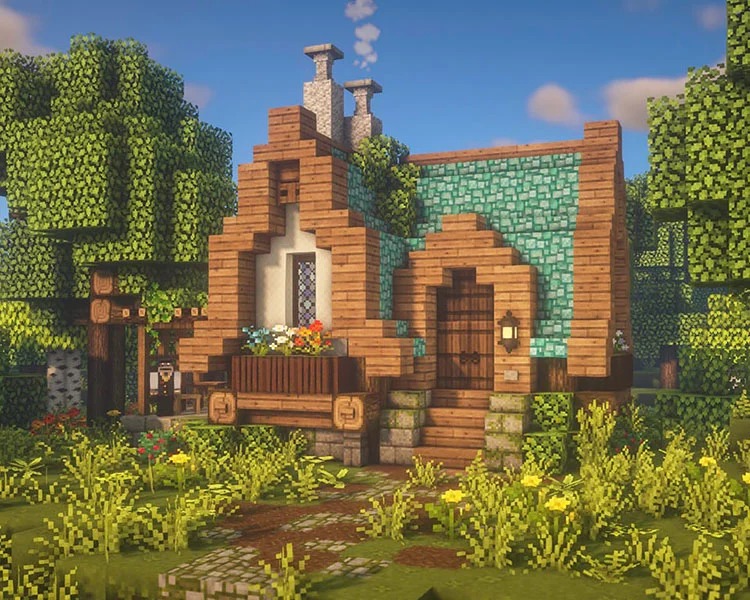 Minecraft Japanese House:
There are different Japanese places like Japanese Ramen Shop Restaurant, Japanese Compound, Japanese Festival Stage, Japanese Peasant's House, Ornate Japanese House, Japanese Pagoda in Minecraft game.
Ultimate Japanese Pagoda:
Some houses in the Minecraft world show the tradition of any specific place. This building is one of them. The Japanese pagoda represents japan infrastructure and tradition. The classy building of this Japanese Minecraft house has excellent length and looks like a beautiful tower.
Different shades of brown are used for its construction. Watch the tutorial from the given link and learn more about this Minecraft Japanese house.
Three-story wooden house:
It is a famous house in the Minecraft world. YalChu's Home makes this triple-story house. Its design is unique but straightforward, having traditional looks. Maybe you have seen this beautiful house multiple times, and the number of tutorials is available on YouTube. It seems a tricky construction, but believe me. You can build it by using small effort and little time.
Forest cottage:
It is an attractive construction that seems like in the middle of the forest. It is so magical when you find a beautiful house in the dark forest. Wooden texture is used for designing on its wall. And bricks are used for the establishment of its upper side. Off-white tiles on the beneath make it more lovely. Small size lamps are adjusted in the outer area to make it more classy and beautiful. If you like this idea, then start your forest cottage.
Image Credit: BitGardener on YouTube
Cozy farmhouse:
It is a stylish farmhouse that looks amazingly beautiful. Too much creativity is used for its design. It is a perfect place to keep your pets in. it is a lovely artwork created by Zaypixel. Bricks of two colors are used for its top. It has different doors and windows. You can learn properly about its construction by watching the tutorial. The link is given below for house Minecraft.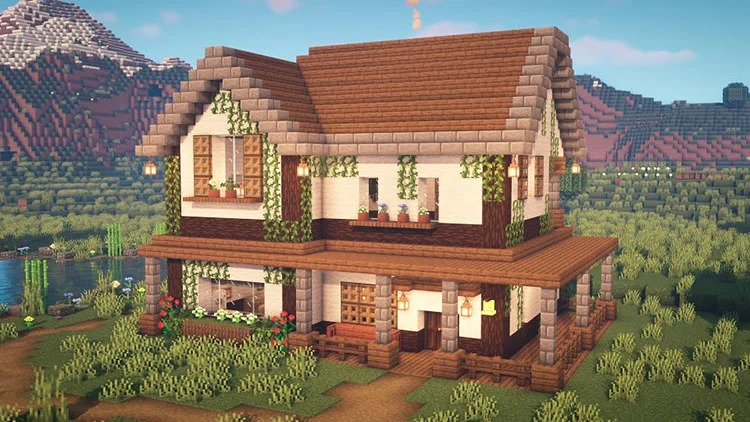 Soft pastel pink house:
This house is so lovely cute Minecraft house in light pink and light blue color. It looks as soft as pastel or cotton. It seems like a girlish house. It is preferred mainly by the girl players. Its color is so refreshing. Its construction is not so tricky; you can use this idea very quickly. It resembles a dollhouse that will remind you about your childhood fantasy if you are young. This soft looks house is the creation of YalChu's Home.
Mini house:
It is a small Minecraft house that takes less time to build up. Its design is so simple, but yet it looks stylish. You can make this one if you don't have enough knowledge about construction in the Minecraft world. This mini house doesn't need a lot of material due to its small & straightforward design. Most probably, the wooden texture is used for its manufacturing. The flower bar outside the house makes it more classy and lovely.
Acacia Mountain House:
In this case, you like Mountain View from your house. So this house is for you. It is an example of a home that is surrounded by mountains. This Acacia Mountain is a beautiful idea. Suppose you like the imaginary world, so this dramatic house is as per your demand. Now, consider yourself building a home in the mountains. I hope you will also love it.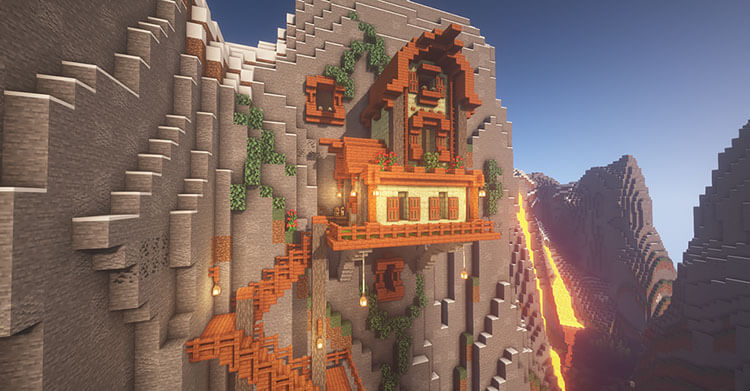 Minecraft underground house:
It is the most recent trend in Minecraft to construct a house in the basement. To build this unique living quarter, you need to find an area under the ground to create this beautiful escaped house. It will require a lot of material and time due to its large size. But don't be worry! You can settle down its length as per your easement.
Minecraft treehouse:
Minecraft treehouse is a great option to escape the creepers. Treehouses give you a beautiful view of even local areas. In addition, these houses provide you vantage points to shoot the arrows at Minecraft mobs. This treehouse is built on top of the house. It is a peaceful house that is constructed in a great place. If you are interested in constructing this on, make sure to include a ladder.
Minecraft suburban house:
If you are looking for a simple, practical house, then this idea is for you. It consists of two stories, a garage along a porch. It is the contrast of a modern and classy look. There is a considerable choice of making the rooms as per your wish. You can use this idea and create the one suburban house according to the requirement of yours.
How to build Suburn House Youtube Guide
Minecraft Beach idea:
If you want to build your house in the perfect location, then this idea will assist you a lot. This house is surrounded by water. It looks so stylish and beautiful but keeps in mind that it take the number of quartz block. It has a small tool for enjoyment and adventure. We can say that it is a remarkable construction that promotes uniqueness and beauty as well.
How to build Minecraft beach house Youtube Tutorial
Minecraft villa:
This luxury villa is an example of modern constructive ideas. Here is a pool where you can enjoy swimming. It will only take 45 minutes to build. Its design has not more complexity. Once you understand it, you can utilize this idea. You can turn this villa into a rustic villa by adding a few of our farmhouse ideas. But you are free to use your institutions and designs.
How to build Minecraft Villa Youtube Tutorial
---
Frequently Asked Question houses in Minecraft
---
Conclusion:
We have provided different types of creative ideas that will help you to construct superb houses in Minecraft. You are not bounded to use the same views; you can utilize several ideas and make the perfect one.
If you don't know anything about the construction of the houses in Minecraft, don't be worried about it. This article will help you a lot. Now, take a breath and choose any of the ideas, learn about its construction and start to build it. Don't be afraid to try. We wish you the best of luck!