CPS

CPS MAX

Clicks

Time
Sec
What is a Click counter and Its Role in Daily Tasks?
Click Counter is a timeless framework to count the number of clicks without any time limit. Simply, it counts your various repetitive click count by just clicking one mouse button. You don't need any physical device to count anything while doing any task. You can count the number of clicks by using any mouse, laptop spacebar, mobile phone, or any of the other devices, it's very easy to use the click counter.
If you want something easy to calculate your number of clicks then use the clicking counter, it helps to count the amount of anything. Simply, we can say that it acts as an assistant who works according to your own will and calculates your number of tasks.
Is there anything more satisfying than watching a click counter online? I think not! There's something about seeing that number go up and up that just makes my day. Watching the number of clicks increase is a great way to motivate yourself to keep going. Plus, it's a great way to track your progress. Whether you're trying to increase your daily steps or reach a new personal best, a click counter can help you stay on track. And if you're ever feeling like you can't make it to your goal, just take a look at the click counter and remember how far you've come. Every step counts!
Clicker Counter with Simple Button Press:
Clicker Counter is another famous name of this tool used for the same purpose to calculate your clicks. Amazingly it does not require any web extension or application download to use this tool. It is online and available across all devices like laptops mobile tablets with any browser.
The mouse clicker counter is easy and accessible for each and everybody who wants to calculate anything either your number of works and attempts that you do many times and you want to calculate their exact numbers, so, you must've used this version
This tool is specially designed for the users who want to do gaming practice on a timeless counter clicker to check their number of clicks or practice from scratch. You can test your skills with a very basic clicking speed to enhance it to the pro gamer. Furthermore, this game will help to boost your capability of clicking to perform well in games like Aim Trainer, Click Speed Test, and Minecraft.
Keyboard Click Counter:
Users can also use the keyboard to calculate their number of clicks. Here, another way of counting the clicks is the keyboard click counter. In the Click counter per second, the variation is about only one second, it calculates only those clicks that you make within one second.
Click counter 1 minute will calculate the clicks that you have done within the time variation of 1 minute (60 Seconds). The time variation of 10 seconds is also available for you to click counter 10 seconds will calculate the total clicks that you make within the time limit of 10 seconds. The keyboard counter is a tremendous feature most of the click counter only used with the mouse but this keyboard clicker counter also work with the spacebar button so you can do practice with this duel mode
Click Counter Features:
Saves Time: It saves your time, you can use this without any headache. Just use the click counter to save your valuable time.
Count CPS: It counts your cps (clicks per second) click per second is the total number of clicks per second with your mouse.
Max CPS: Max cps tell your number of maximum clicks per time ends means at the point you stop game it calculates your maximum clicks
Shows Exact Clicks: It's very helpful for you to calculate your number of clicks and show your exact clicks as well as you'll click on the counter. It stores your every count very safely. Moreover, it saves your count until you reset.
Time Calculation: As soon as you do first click your time starts and calculate the cps with given time.
Left Click Counter: If you are using the mouse left button to count then it is left-clicked counter and mostly people challenge themselves to do with the left click.
Right Click Counter: If you are pressing the button with the help of a right-click then it is working as a right-click counter.
Browser Compatibility: An additional feature is that the website is surely compatible with any browser like Opera, Safari, Firefox, Mozilla, Internet Explorer, etc.
No Lagging: Our website performs its function properly without any lagging or hanging. You can boost your clicking speed without any fear.
No Account Required: The website doesn't require an account from you to reach this. Simply, you can easily use the click counter without creating an account.
Mobile-Friendly: An interesting addition is that it is mobile-friendly, the mobile users can easily have access to the Click Counter from the same web version.
Social Sharing: Moreover, it also provides you with social sharing in which you can share it with your friends, relatives, and vice versa. You can just go over social sharing via Twitter, Facebook, and e-mail. You can enjoy with your companions and others from online sharing.
Type of  click counter:
The click counter tool is the same as the spacebar counter. In the spacebar counter, you need to hit on the spacebar as many times as you do to calculate the number of work.
The same rule applies to the click counter you have to make the number of clicks to calculate the total number of your clicks or work. You can get the click counter online and can play easily the click counter game.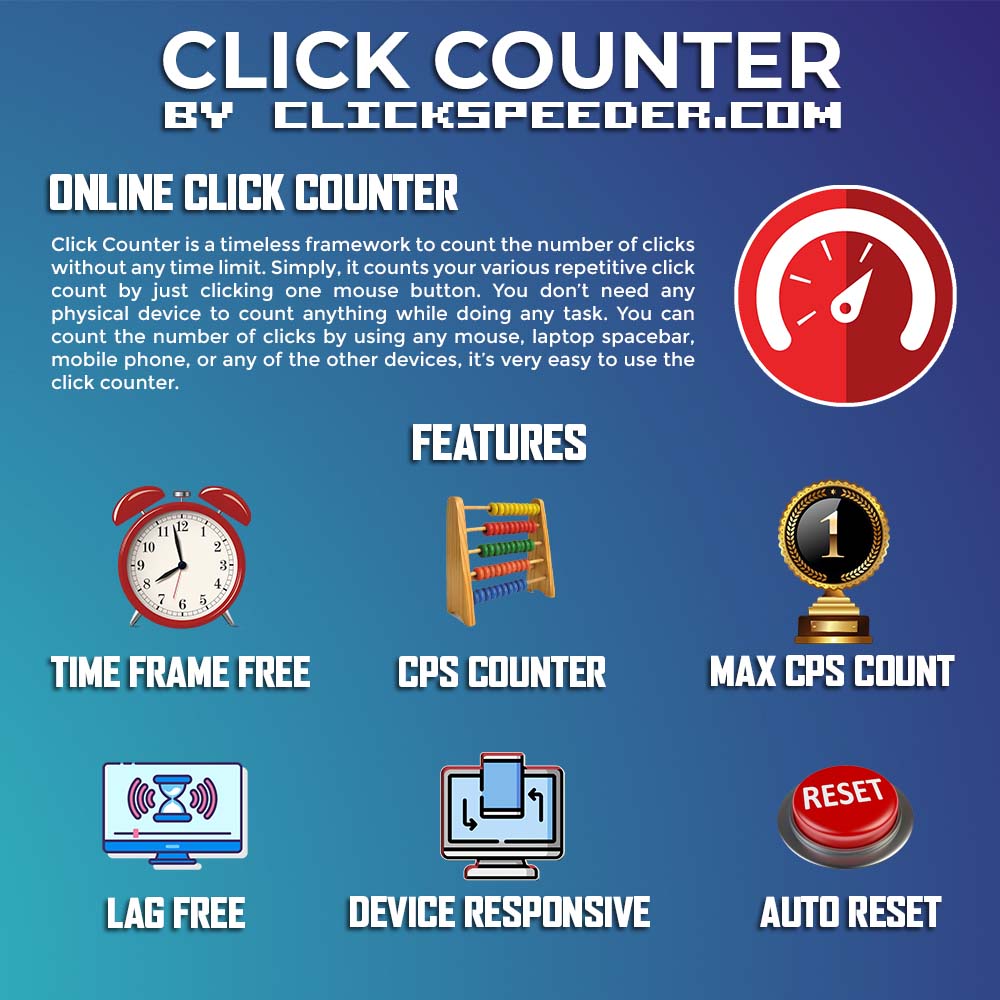 How to Use Click Count:
Here are the following steps to follow is shown below:
First of all, just come to the website, here the green box will be presented to you at the top of the page in which you count the clicks.
You simply press the space button, mouse button, etc. to start the counting.
Then click on the box to start the counting process according to your work and calculation, just calculate your repetitive process by clicking one after one, as well as it will count your numbers of clicks.
The number of clicks will be shown in animated digits.
Your Counter value will maintain and remain the same until you restart the browser. You can see your previous value easily after resting the browser.
If you can start your counting process again from where you leave, the counter will restart and continue to count.
Take and save your time and enjoy your click counter.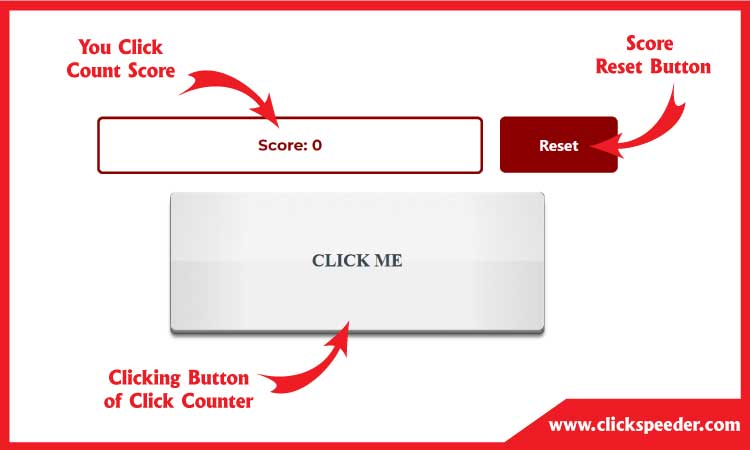 ---
Click Counter Frequently Asked Questions
---